If you've read my Back Story, then you already know a little bit about my lineage of accessorizing ladies; however, I'm also a bit of a sucker for some cool culinary accessories — a trait I most definitely inherited from my Dad! Much of our father-daughter bonding has taken place in the kitchen and that continues on to this day. Most recently, he and I have been comparing notes on our shared affinity for the KitchenAid stand mixer attachments and we even gave my new purchases a whirl together a couple weekends ago (more on those experiences coming soon)!
"Give a man BBQ and he will eat for a day.

Teach a man to BBQ and he will eat all summer long!"
So now that summer is in full swing, and with Father's Day rapidly approaching, I have decided to hand this post over to my family's resident grill master and BBQ extraordinaire — my dad, Elmer "E" Hilker! He has put together some fantastic Father's Day grilling gift ideas for us, priced at under $50 and suitable for ALL levels of backyard BBQ aficionados! Whether the dad in your family is thinking of dabbling in the art of grilled and smoked foods, or is already an expert in the art form, there is a gift for everyone on this list. That said, if you'd like E's expert advice on purchasing grills, smokers or more advanced tools (really, the pricier side of barbecuing) just reach out via this link and he can point you in the right direction!
Here's how you know you're getting advice from an expert: 1.) He is recently retired from bottling and selling his proprietary recipes of BBQ sauces; 2.) said BBQ sauces were sold in more than 75 specialty food stores across the southeastern USA; and 3.) when he's invited to cookouts, he somehow ends up behind the grill by popular demand of hosts and guests alike. The man knows his stuff!
BONUS: We've even included a few of his signature recipes HERE to get you started!
So without further ado, below is his list of grilling accessory recommendations and must-haves! Budget willing, an idea we have for you is to bundle 2 or more of these items together along with your favorite sauces and/or dry rubs to create a "Basket of BBQ" that Dad can use (and the whole family can enjoy) all year long! Read to the end for how to complete the look of the gift basket.
Note from Dad: This amazing combo contains 3 essentials: silicone heat resistant gloves, a simple probe temperature gauge, and meat claws for pulling apart your finished pork butt, chicken, or brisket. A very useful and inexpensive gift!
Price Point: $21.99
2.) Cook Books with the BBQ Basics
Note from Dad: These 3 books are personal favorites of mine because together, they cover "how to grill" techniques, great recipes for a huge variety of foods, as well as opportunities to grill the flavors that come from all across the USA! Buy one or buy them all!
Price Points:
3.) Cook Book for Elevated BBQ Techniques: Mastering the Grill
Note from Dad: When you are ready to step up to gourmet grilling, it is hard to beat this book. It is an instruction manual on all aspects of prep and grilling, with some amazing recipes. Well worth the purchase!
Price Point: $23.99 Paperback / $9.99 Kindle
Note from Dad: OK, I am campaigning for this gift myself! My wife and daughters can fight over who gives it to me. I am ALWAYS leaving the kitchen or coming back from the grill with my hands juggling everything. This gift truly solves the octopus problem for the grill chef!
Me: Dually noted. 😉
Price Point: $26.88
Note from Dad: I do not own one of these but I am sure it will last longer than a wire brush and probably do a better job because it can fit any size cooking grate and comes in several different metals based on you particular grill grate.
Side Note from Me: I have seen some crazy reports of metal grill brush bristles shedding and being accidentally swallowed, so this is certainly a great alternative to a trip to the E.R.!
Price Point: $17.39 (apply coupon for an additional 30% off)
Note from Dad: This is the ideal gift for avid grilling tailgaters or beachgoers. It opens up easily to become a snack holder, ice bucket, and drink holder. Folds up like a tailgate chair for easy transport!
Price Point: $44.99
Note from Dad: Every one loves koozies, and you can still use them, but the Corkcicle Beer Chiller gets to the heart of the bottle to make your beer even frostier longer, while you are cooking in the summer heat!
Price Point: $19.95
Note from Dad: Whether your dad IS or just aspires to be a barbecue legend, I'm sure he would proudly wear this shirt because the "someone" that gave it to him thinks he is a legend regardless!
Price Point: $17.99
Side Note from Me: I spotted these fun Americana grilling tees (below) that would also be great for Dad, especially with July 4th coming up!
Price Point: $17.95-$19.99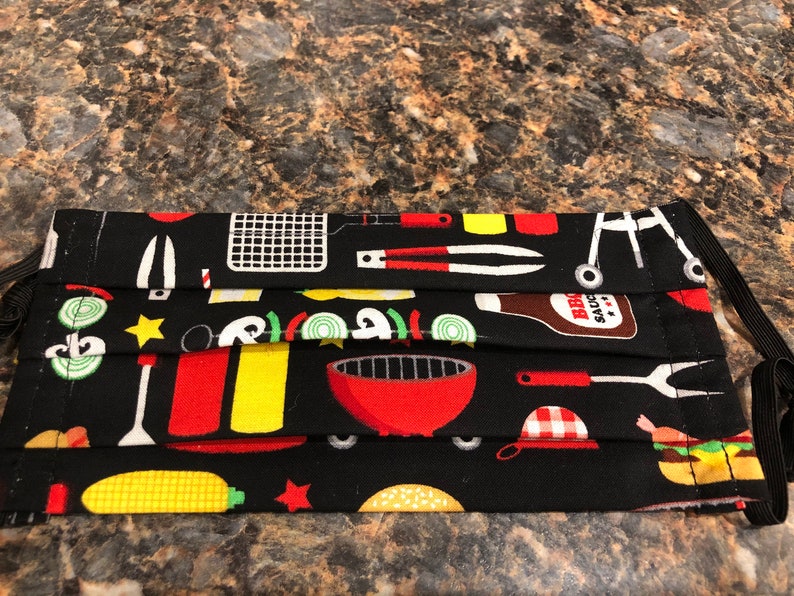 Note from Dad: A COVID-era novelty that also really works keeps the smoke at the proper social distance. Perfect for the grill chef this Fathers Day!
Price Point: $9.99
Assembling Your "Basket of BBQ"
THE QUINTESSENTIAL BASKET:
THE CELLOPHANE BAG TO HOLD IT ALL TOGETHER:
FESTIVE RIBBONS TO SECURE THE GIFT (FASHION + FUNCTION)
A Couple of Inexpensive Add-ons:
…AND VOILA!
The finished product should look a little something like this:
A closing note from Dad: Keep this list for many Fathers Days to come but don't forget Christmas, birthdays, or perhaps an unexpected "I Love You Dad" gift any time of year! Happy Grilling!
"Taste and see that the Lord is good"

Psalm 34:8